Today is our final post for Celebrate PRIDE this week! We are sharing stories of ministers in the Learning Pastoral Imagination (LPI) Project. Every time we tell a story or share a narrative from our research, we believe it becomes a site of encouragement. A mirror for the experiences of other ministers. Seeing and hearing the stories of people like us can help us feel not-so-alone.
We are profoundly grateful for the lives and ministries of Tim, Georgine and Naomi, Theresa and Esther, and LGBTIQA+ ministers who shared their stories with us.* Additionally we are grateful for their willingness to let us share those stories with you this week.
Each story gives us an opportunity to witness clergy who have taken the double journey of coming out as LGBTIQA+ and responding to a sacred call to ministry. Each of these journeys has multiple unique challenges, and together they require courage, trust, support, and yes, pastoral imagination.
P

R

I

D

E

Week at 3MMM
This week we've been sharing stories that highlight the courage and fortitude of ministers in the LPI study who identify as lesbian, gay, bisexual and/or queer.
First Call and Second Call (Friday)
For this week only we sent out three emails. Don't you think celebrating PRIDE is worth a little extra email? We wanted to put these inspiring stories of LGBTIQA+ ministers in your inbox. And we hope you continue to Celebrate PRIDE this month and year round!
First Call: Esther's Story
When Esther interviewed for the campus pastor job at University Church, they asked if she played the guitar. Esther said, "You know, I can play like the eight chords that every youth director knows, but that's it."
That was all the hiring committee needed to hear. They thought it should be no problem for Esther to do the music, the preaching, and everything else in the "church within a church" campus ministry program. They hired her on a one-year contract. It turned out to be quite a year!
Esther was in her late twenties at the time and had just graduated from seminary. She recalls, "The first month or two was just the biggest disaster! We were worshipping in a fellowship hall: white walls, big metal chairs, fluorescent lights, preaching from a music stand." Students ate dinner before worship "around a big square table where you could only talk to the person on your right or to your left."
Esther says she felt like a "one-person show up there, with awkward transitions, and me banging my guitar as I'm taking it off and moving to the music stand." The students wanted traditional Presbyterian worship. Yet the traditional liturgy felt out of place in the very sterile room. "It just didn't feel like a worshipful space."
A Big Year
It was also a big year of personal transitions for Esther. In her final year of seminary, Esther met and began dating her first girlfriend, who was also in seminary. The summer after graduation, she came out to her parents around the time she took the new campus pastor position. And she sat for her first ordination exams, which she found "demoralizing and discouraging" when she did not pass.
Esther was the first new church staff minister in many years. Her senior colleagues seemed to have forgotten what it was like for someone to be new. She found herself constantly needing to ask questions. Action was required to revitalize the campus ministry program. Yet Esther had few partners with whom she could process or reflect on the many changes.
What else happened in the big year of changes for Esther? Read more of her story in my new book, Pastoral Imagination (Fortress Press, pp. 213-214). 
Questions:
What steps can you take to help new ministers find the support they need, especially when life is overwhelming?
As a minister facing many transitions, what supports and boundaries will you put in place to help you navigate?
Second Call: Theresa's Story
As we gathered to hear stories from participants in the LPI Project a few years ago, we asked the ministers to bring us up to date on their lives. Theresa, a white woman in her early thirties, jumped in to tell her story. She recalled that the last time we gathered with her cohort in this circle, she was desperately searching for a second call because her two-year pastoral residency was coming to an end.
In that search process, she found herself for the first time in an otherwise privileged life experiencing oppression completely beyond her control. As a woman in a committed partnership with another woman, she found herself trying to convince churches of her worth as a minister, and it felt like she was "banging her head against a brick wall."
Just a week after her residency ended, however, Theresa found herself interviewing for a chaplain's job with a midwestern college that was surprisingly ready for her gifts. She learned from prior experiences interviewing with churches how to educate a committee from the outset about her marriage rather than apologize for her inability to meet their expectations.
She gave a dynamic interview, and the school hired her. Theresa says, "It was like the brick wall had not gone away. But it is as if I walked around it. I'm aware it is still there, but I'm not banging my head on it anymore, although I still have some bruises, maybe a black eye and some scars."
"I serve the church"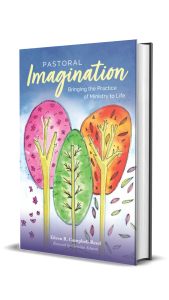 The college where Theresa went to work as a chaplain and adjunct professor was in the midst of many financial challenges and a lot of anxiety, but as she says with recognition and determination, "I serve the church. And I love, love, love everything I do." After two years of ministry as a college chaplain, Theresa says she feels, in the words of the apostle Paul, "grounded and rooted in love" for her family and her work (Eph 3:17).
Despite the real limits of her situation (the brick walls have not gone away), Theresa reimagined her own place and gifts for ministry moving beyond apology to educating others, claiming her gifts, and making the most of the possibilities within her reach.
Although some of the walls Theresa ran into were surely visible, other aspects of what she coped with came in the form of silence and invisibility, failing to acknowledge or honor her experience as a queer person. These are the walls that Cody Sanders and Angela Yarber call "microaggressions in ministry."
What else did Theresa learn in her second call in ministry? Read more of her story in my book, Pastoral Imagination (Fortress Press, pp. 129-130 ff). You will find her story in chapter 19, "Brick Walls."
Questions:
As a queer minister, what brick walls are you encountering? And what are your strategies for getting around them? 
What helps you feel grounded and rooted in love (Eph 3:17)?
Clergy friends, a question for you who identify as LGBTIQA+ … Would you tell us what brick walls are you encountering? And your strategies for getting around them? pic.twitter.com/mhM1BMcagO

— Three Minute Ministry Mentor (@3MinuteMin) June 17, 2022
---
*All names and identifying information in the LPI study are pseudonymous.