Editor's Note: Today's guest post is by author Kimberly Knowle-Zeller, one of the co-authors of The Beauty of Motherhood (Morehouse Publishing, March 2023). We honor the gifts and graces of mothering, and the many ways mothering that happens in relationships and also in community. We also honor the practices of listening to children, and we are grateful for how this book can support us in honoring children. 
Noticing Beauty in Mothering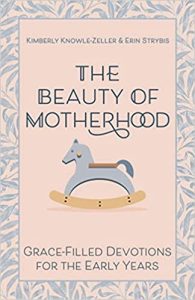 From the living room we look out to the town park and the setting sun. This time of the year I'm often cooking dinner while the kids are watching a TV show. I'll walk between the dining room and kitchen and shout to whoever will listen. "Look at that sunset!"
Some days I grab my phone and stand on the front porch. Other days when the TV is not on we all go to the porch and watch together. The colors transform before our eyes. The reds, yellows, pinks, and oranges turn the sky almost fire-like. Bare tree branches stand at attention before this beautiful show. And as a family we stand in awe. These winter sunsets streaming through our living room window call us to stop and look out. We marvel at what beauty there is to notice right in front of us.
It's in this noticing of beauty and being reminded of God's grace that Erin Strybis and I wrote The Beauty of Motherhood: Grace-Filled Devotions for the Early Years.
The Beauty of Motherhood is a collection of moving devotions for moms inspired by our children's milestones and development. It's about knowing that God calls us to mother. And it's trusting that God is in every nook and cranny of our lives. It's about the questions moms ask: Am I doing enough? Will this season ever end? Why do I feel alone? How can I love so deeply? The Beauty of Motherhood is ultimately a collection of stories pointing to the grace threaded through our days and the presence of a God who calls us beloved.
The Early Years
The early years of motherhood are filled with moments of wonder and joy alongside day-to-day challenges. Mothers want to connect with God, but we're exhausted. We question if we're doing enough for our kids and wondering if we'll ever have time for ourselves again.
With scripture, stories, prayers, and practices, The Beauty of Motherhood provides refreshment, encouragement, and the reminder that you are not alone as you mother. We, Kim and Erin, explore growing pains, pregnancy, birth, body image, delight, loss, comparison, vocation, friendship, and more. Our hope is that these honest, heartfelt reflections bear witness to the ways God's grace breaks through in our motherhood journeys.
This book will make a great baptism gift to encourage new moms in your congregation. It can also be given as a welcome present for new member mamas of young children. If you host a new moms' group, the books could be a resource for a multi-week group study. What's more, a group of grandparents may be interested in buying devotionals to share with their daughters or daughters-in-law to encourage them in their faith and mothering.
Erin and I first connected through stories. Erin spent seven years writing and editing for Living Lutheran where I also write on topics of parenting and faith. Over the years we wrote together and dreamed of writing books. One winter we teamed up to write a week-long devotional on God's love. And after we said, "You know, we should write a full devotional book together." Dreaming big, we got to work on putting our desires to the page. Centered on God's grace in our lives, The Beauty of Motherhood was born.
Reminders
When I am re-reading the devotionals, I'm struck by how much I need these words Erin and I wrote. I need to be reminded that I'm doing a good job, that I'm enough, that I'm called to be a mother to these two children. Sometimes God's grace breaks through in the sunset. Other times it's the cadence of my daughter's voice singing "I have decided to follow Jesus," or the ways my son makes up worlds with his legos.
Other days I have to remind myself that God is with me and that the work I do as a mother matters. In the everyday moments of motherhood, we pray The Beauty of Motherhood will be a balm to readers. We offer this book as both inspiration and assurance that the call to mother is holy, that beauty is ours for the taking.
Indeed, whenever a mother, grandmother, or caregiver picks up The Beauty of Motherhood we hope they feel God's overwhelming goodness and grace in their lives. We want a mother to look at herself — in all the worry, mess, dirty diapers, meals to prepare, and endless to-do's — and know she is loved by God.
Giveaway in March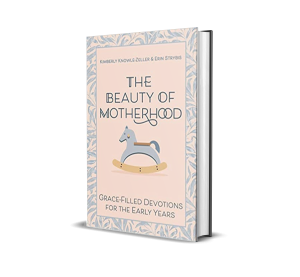 We are delighted to give away a copy of The Beauty of Motherhood! If you would like a chance to win a copy, here's how. Enter the giveaway by signing up for our weekly 3MMM email, here. 
More about the Authors
Kimberly Knowle-Zeller is an ordained ELCA pastor, mother of two, spouse of an ELCA pastor and co-author of The Beauty of Motherhood: Grace-Filled Devotions for the Early Years (Morehouse Publishing, March 2023). She lives with her family in Cole Camp, MO. Connect with her online at kimberlyknowlezeller.com or on Instagram (@kknowlezeller).
Erin Strybis is a lifelong Lutheran, mom of two and freelance writer based in Chicago. She is coauthor of The Beauty of Motherhood: Grace-Filled Devotions for the Early Years (Morehouse Publishing, March 2023). Connect with her online at erinstrybis.com or on Instagram (@erinstrybis).