Graceful parenting. That's not a description but rather an aspiration and a need.
I love being a parent. And for 17 years of married life before giving birth, I also enjoyed being an adult without parenting responsibilities for children. Each decision has been the best one for its season.
Once we decided to try parenthood, it took significant time and some fertility grief before we got our daughter here. So I know the whiplash of the fertility roller coaster. And with all its joys, and discoveries, and uncertainties, and moments that pass by much too quickly, parenting itself remains a roller coaster.
Like the other significant and intimate relationships of our lives, there is much that cannot be written, cannot be said. Not because it is necessarily bad or problematic, but because we cannot reduce the fullness of the experience to words when it comes to parenting. The embodied and relational character of parenting, similar to that of ministry, makes for an abundant surplus of experience and meaning.
In studying the work of ministry, we often borrow a phrase from philosopher William James. When we give our full attention to a ministry situation, there is what James calls "the more" –- the rich and irreducible character of what we are seeing. Skilled and thoughtful ministers become profoundly aware that every situation holds something we can identify as "the more." Wise parents know this, too.
The need for grace
Part of the "more" of the situation of parenting is just how much grace it entails. When I pause to think even for a minute about what a huge responsibility and surprise it is to be entrusted with another human life? The powerful and urgent need for grace is immediately clear.
My experience confirmed for her to be true before becoming a parent. Parenting can be at once joyful and maddening, an endless string of discoveries and a long series of griefs.
Parenting brings with it new and unanticipated skills. For example, I learned to diagnose strep in my child with a high degree of accuracy. I can see when she is struggling with something. I often see where her strengths are, and I know good questions to ask. However, I can also ask too many. Or I miss the point. I don't always see the struggles. Sometimes I'm wrong about strep. I am far from perfect. I cannot know or do all that is needed.
There are so many reasons that I need grace as a parent.
For all the talking and stories and analysis, something as complex as ministry or parenting inevitably entails more than we can reduce it to using words or poetry or music, or entire books. Yet because it is so much, and because it is so important to care and tend to another life entrusted to us as parents, we need the words and the stories and the books.
This week we are sharing with you one of those important books.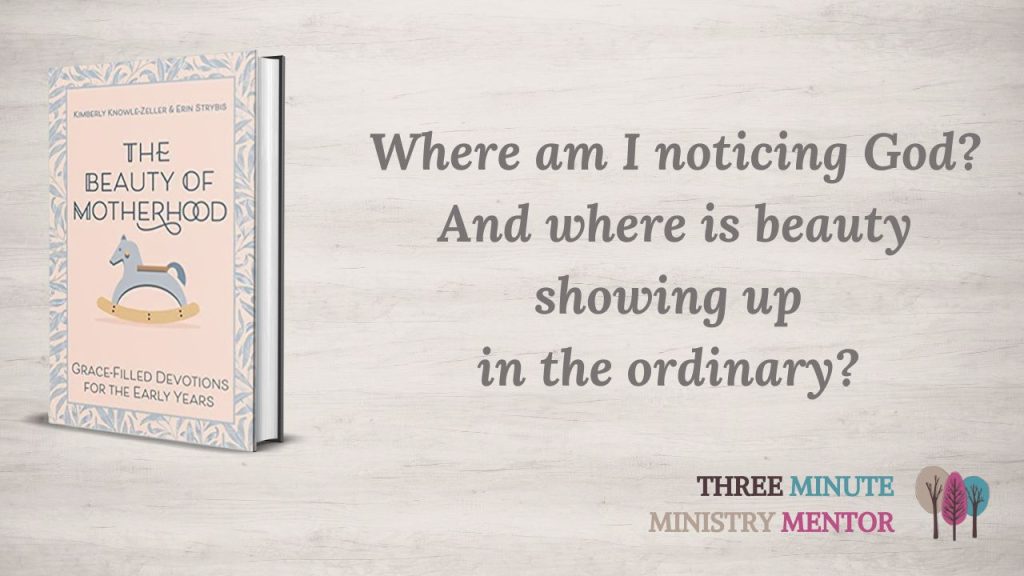 The Beauty of Motherhood
We are grateful to authors Erin Strybis and Kim Knowle-Zeller for stopping by to talk about their new book. The Beauty of Motherhood: Grace-filled Devotions for the Early Years was written especially for progressive Christian parents. We want share the first part of our conversation with you today.

Author Erin Strybis says when she was a new mom, the devotional books she picked up about parenting often made her feel like she wasn't living up to some imagined standard of Christian parenthood. Have you ever felt that way? I have, and I get that.
Erin says she wanted a new kind of book. She wanted one that emphasized God's grace as it wove throughout her parenting. She wanted a book that helped her notice where God showed up. A book that highlighted beauty in the ordinary.
So she and Kim Knowle-Zeller put their energies together and wrote that book. It is especially for progressive Christian parents. It is for parents whose theology shows them a God of grace and compassion, rather than judgment and punishment.
Recently, Kim wrote a guest blog for 3MMM, and she shared stories of  beauty and grace in her everyday life, how raising children helps her see the holy. You can listen to Erin reading from The Beauty of Motherhood as part of last week's International Women's Day celebration.
Preorder and Sign up for the Giveaway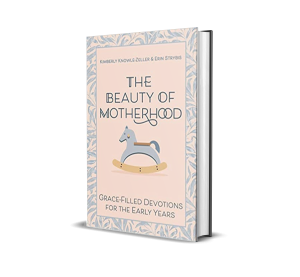 Erin and Kim's book releases on March 21, and we are giving away a copy! To get your name in on that giveaway, please sign up for our weekly 3MMM emails. Tell your friends who are also doing the joyful, challenging work of parenting.
And remember to preorder The Beauty of Motherhood today! It can be a wonderful reminder of just how graceful parenting is when we take time to notice. It will be an encouragement for moms, dads and parents of all genders raising children in faith, beauty, love, and grace.
More about the Authors of The Beauty of Motherhood
Kimberly Knowle-Zeller is an ordained ELCA pastor, mother of two, spouse of an ELCA pastor and co-author of The Beauty of Motherhood: Grace-Filled Devotions for the Early Years (Morehouse Publishing, March 2023). She lives with her family in Cole Camp, MO. Connect with her online at kimberlyknowlezeller.com or on Instagram (@kknowlezeller).
Erin Strybis is a lifelong Lutheran, mom of two and freelance writer based in Chicago. She is coauthor of The Beauty of Motherhood: Grace-Filled Devotions for the Early Years (Morehouse Publishing, March 2023). Connect with her online at erinstrybis.com or on Instagram (@erinstrybis).