EDITORIAL NOTE: We are offering a summer series of "My Favorite Things" this year, and 3MMM Team Member Elizabeth-Anne Lovell is on the blog today. We think you'll enjoy reading about Elizabeth-Anne's favorite things!
We launched something new over on YouTube this month. And we would LOVE for you to subscribe to the "How to in Ministry Leadership Series." 
Happy summer everyone!
My name is Elizabeth-Anne. I am the research and social media assistant for 3MMM. I'm also an Adjunct Professor at Belmont University where I teach a class called Jesus in the Gospel and Film. I live outside of Nashville, in Lebanon, with my husband Keaton, our three-month-old daughter Ella, and our rescue dog Obi.
When Eileen asked if any of us on the team would be willing to write about our favorite things of the moment, I said YES right away!
So, here are my favorite things right now…
1. Lizard Time
My absolute favorite thing right now, especially with it being so hot,  is Lizard Time!
The idea is that when you get overwhelmed, feel stuck, or just need a minute to gather yourself you go sit in the sun like a lizard. You only stay a few minutes – maybe five or ten. But Lizard Time gives you a chance to reset and then get back to the task at hand.
Look I promise I'm not crazy… ok well that crazy. This is a thing!
I first heard the term on Tik Tok about a year ago. It is something I think I have always done, I just didn't have an intentional name for it.
But it isn't just me and this one person on TikTok. Research has shown that sitting in the sun for short periods of time can help with mild anxiety and depression. And researchers at BYU even found that days with more sunshine are associated with better mental health.
The reason I love it is that I feel like it helps me thaw out, if you will. Much like a cold-blooded lizard who got too chilly in the shade, I too need time to warm up my body. Sometimes I will even sit on the steps of my back porch to feel the warmth from the steps and from the sun.
Time to reset…
I find it is a nice little reset when I find myself feeling stressed, anxious, or unable to move forward on something.
Stuck on a project for work? Lizard Time.
Can't start anything because there is too much to do? Lizard Time.
Don't remember the last time you did anything for yourself? Lizard Time.
Can't figure out how to word that email? Lizard Time.
Someone in your household getting on your nerves? Lizard Time.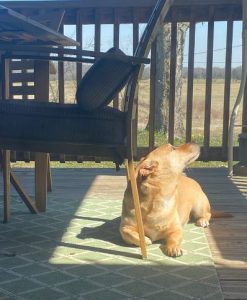 As soon as you have a little Lizard Time, I promise these things will seem less overwhelming!
(Added bonus: your dog can join you, too!)
2. Frasier
On March 24, my husband and I welcomed our first child into the world! As days and nights and feedings all blurred together, I decided to rewatch a favorite show of ours. Over the past several weeks I have spent most midnight and 4am feedings watching Frasier.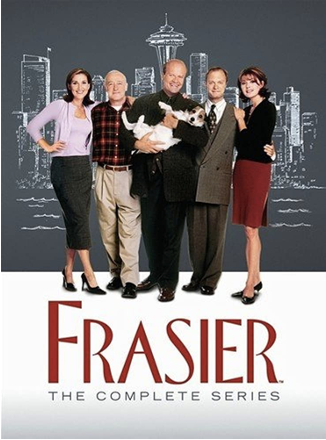 The show Frasier (1993-2004) is actually a spinoff of the popular sitcom Cheers, in which we follow psychiatrist Dr. Frasier Crane's life in Seattle, Washington as a radio talk show host. Along with his uptight brother, and fellow psychiatrist Dr. Niles Crane, Frasier attempts to be a thriving contributor to what they would consider upper levels of society – attending galas, operas, hosting wine clubs, and listening to classical music.
Meanwhile their father, a former policeman and down-to-earth guy named Martin, lives with Frasier along with his physical therapist, Daphne, and his Jack Russell, Eddie. And you can't forget my favorite character: Roz, Frasier's producer! Roz is one of the few female characters in 90s television who dates regularly and eventually becomes a single mom, but isn't always the focus of a joke.
Each episode always has typical sitcom antics. Incorrect information is spread, dates are ruined, characters fall in love, fights escalate in public, cappuccinos are ordered at Cafe Nova, and everything is resolved in twenty-two minutes.
Here are two clips from two of my favorite episodes. The first is "Frasier Restaurant Troubles" and the second is "Frasier Groovy lady (piano part)." Enjoy!
"I'm listening…."
During my rewatch of this show, I have come to remember one thing that I LOVE about Frasier. It Frasier's tagline in his radio show, "I'm listening." And no – this isn't the part where I ask you who you are taking the time to listen to.
This is the part where I ask: Who do you have in your life that is listening to you?
As the friend and family member that everyone seems to go to with their own issues, I often forget that I have permission to do the same. More than that, I need to have people in my life that will listen to me. I need to have people that will listen as I talk through my own problems or questions and that will celebrate or laugh with me, too.
I hope you have those people. And I hope you'll join me this summer in letting someone listen to you.
Which leads me to my third favorite thing….
3. Group Texts
Okay, I may be the only one here. But I LOVE a group chat!
I am in two group text threads that have honestly kept me going after having a baby, while learning to be a mom, as I am navigating going back to work, and trying to remember what it is like to be a person.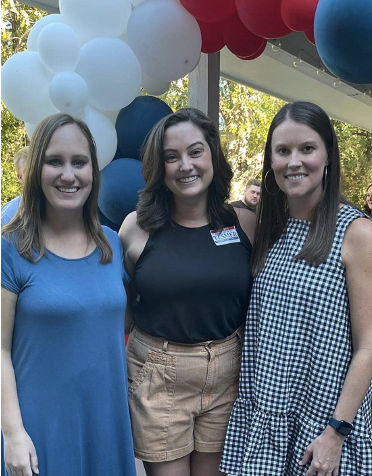 One thread is with two friends from high school. We graduated ten years ago, and I'm honestly impressed that we are still such great friends. I know we are very lucky! We all live very far away from each other. So it is  rare for us to be together. The group text is how we maintain our friendship!
The other is a family group thread that is so much fun and so weird I don't know if I can even explain it. My uncle, my cousin, and I started it to discuss Star Wars. Since that one text in 2019 about The Mandalorian, we haven't stopped talking. We also gave each other fake names. In fact, I use their fake names so frequently that I had to change their contact information so I didn't text the wrong person.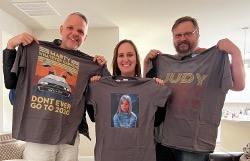 In both groups, we check in every day. We send memes, funny videos, ask questions about parenting, talk about pop culture and current events, discuss movies we have watched 100 times, complain, celebrate, and ultimately support one another.
Comforting Connections
There is something comforting in having both of these threads. And I love that they allow me to stay in close contact with some of my favorite people that I don't see very often!
Group texts can be annoying, and sometimes intimidating. But they can be a great way to stay in touch with people who are important to you!
Mini Writing Retreats 
One of our favorite things about Elizabeth-Anne is all the creative things she makes for 3MMM. Like the videos we share on social media. And she helps us get the word out on cool things like this summer's Mini Writing Retreats! If you are a writer or have friends who are writers? Please help us get the word out! You can also share news on Facebook or add to your stories on Instagram.
Join us for one or more Writing Table Mini Retreats this summer — for only $30 each!

Choose all three retreats, and you will also receive an individual coaching session with @ecampbellreed #writing #writiers #writingretreat pic.twitter.com/hOXihmlbD9

— Three Minute Ministry Mentor (@3MinuteMin) June 8, 2023