We are offering a summer series of "My Favorite Things" this year, and 3MMM Team Member Erin Robinson Hall shares some of her favorites. Things that are making her and her family happy this summer. You can also find more of Erin's favorite things at her website.
We launched something new over on YouTube this month. And we would LOVE for you to subscribe to the "How to in Ministry Leadership Series."
Five Things Making Me Happy
By Erin Robinson Hall
Summer time is super busy for my family, and these are a few of my favorite things!
1) Podcasts
One delight of this summer is discovering new podcasts. I have been a fan of podcasts for a while, but now my four school-age children have their favorite podcasts, too. The thing that makes me happy is seeing their imaginations light up and their listening skills grow.
We turn on a kid podcast when we are running errands in the car or preparing dinner at home. Sometimes, when mean mom (that's me) has said no more screen time, I will cave and turn on a podcast while they draw or play inside. Some of our favorite podcasts these days are:
Who Smarted – Science and history facts in a fun gameshow
Forever Ago – a history show for the whole family
A Million Bazilion – Entertaining facts and stories about money and finance
Wow in the World – such fun characters and stories about many different topics
2) Audiobooks
Along with podcasts, I was recently reminded that as much as I love audio books, children love to hear a good story aloud, too. Audible has been a fun way for all of us to enjoy a book together. We started this tradition last Christmas with a holiday book during a road trip, and now my children are hooked on audiobooks.
I have been a pleasantly surprised how much they follow along and listen. Our summer book series has been The Ramona Quimby collection. Let me tell you, Beverly Cleary's stories can still captivate. Ramona books were a favorite of mine as a child, and I really enjoy how my children are hearing the stories of Beezus and Ramona again. Do you remember reading these books, too?
3) Reading for Fun
I have always loved curling up with a good book, and one way I am carving out moments for self-care right now is to read and enjoy it. More than that, I want my children to enjoy reading. Summer affords a little more open time for that, so we have instituted a "quiet time" on any afternoon when we are home. For about 20 minutes, each child gets to find a favorite spot around the house and read. Whatever they want.
I pretend I don't care that they grab a graphic novel they have read a hundred times or a sticker book that's more stickers than words. Finding the spot is the best part. Read with the dog under a pile of stuffed animals? Sure. Outside in the hammock? No better place to read.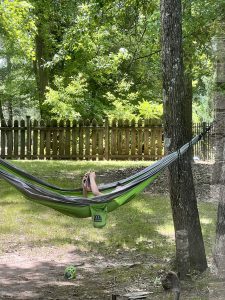 Then, while they are all in separate corners, I read. Those twenty minutes are protected: no email, no work, no laundry or dishes. When they interrupt me (and they do!) they see a mom doing something she enjoys.
I tend to be exhausted by the evening, but I am trying to be intentional about reading at that time. Less on-my-phone chores and end-of-day chores. I aim to shift away from the (social media) scroll and turn towards a book. Even a few minutes can pour into my imagination and ease a little stress. At least for a few minutes. A few recent books are:
Behold the Dreamers by Imbolo Mbue
Demon Copperhead by Barbara Kingsolver
Mad Honey by Jodi Picoult and Jennifer Finney Boylan
Strong like Water by Aundi Kolberg
Speaking of water, another thing that is making me happy is being near water.
4) Water
We need water. To live, to nourish our health. Turns out, we also need to see water. A study in the Journal of Environmental Psychology shows us that just looking at water (lake, river, pool, waterfall, creek) improves your blood pressure and sense of relaxation. I would have guessed this without a study.
My favorite place to walk in our city is Amerson River Park, where the Ocmulgee River flows next to  beautiful walking paths. I don't get there every day, but when I do I am captivated by the peace of watching the river flow.
In our family, we have long held a "just add water" policy to heal anything from crankiness to anxiousness to a trauma-related tantrum.
In our family, we have long held a "just add water" policy to heal anything from crankiness to anxiousness to a trauma-related tantrum.
Various studies offer loads of data on this, but my experience promises: just drink, pour, splash or hold some water. Drink a glass, pour some over your hands, get into a bath, even hold an ice cube and watch it melt. It's a kind of magic, a sensory gift. In the summer months, we love a pool, nearby lakes, and best of all – a water hose and sprinklers.
Now, this particular study tells us, "The wider the body of water, the more pronounced the effect was." Which clearly means I need to get beside an ocean, quick. Hopefully that vacation is not too far away.
Finally, the last thing making me happy is  . . .
5) Dessert
Popsicles. Peach Ice cream. Brownies, made by little sticky hands. S'mores. The sweetness of these treats is equal parts indulgence and intention. There are so many parts of parenting these days that require boundaries, regulation, limitations, and saying no. When we can say yes, we are trying to say it more.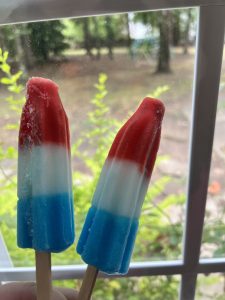 Summertime popsicles often get a yes from me. In the evenings, instead of an early bedtime routine, we will send our kids into the backyard with popsicles and soak up the sweet memories. Especially on a day that has been more struggle than sweet. There are big ideas about listening to our bodies and being mindful when it comes to food. There are practices of intuitive eating and mindfulness that we hope will take root in our family in good ways. For us, that means enjoying every single bite of a dessert sometimes. The sticky fingers and messy smiles make me happy.
What is bringing you delight these days?
++++++++++
We hope you've enjoyed Erin's Favorite Things. Find out what Eileen and Elizabeth-Anne shared earlier this month. And watch for a few more summertime favorites coming your way.